Ukrainian Pravda recently reported that a handful of fishermen saved 2,000 of their countrymen trapped behind Russian lines. The ad hoc operation began in early March 2021 after the Ukrainian government organized evacuation and humanitarian assistance efforts in unoccupied areas near the Kyiv reservoir and local fishermen decided to pitch in with their motorboats. The 356 square mile reservoir (922 square kilometers), known locally as the Kyiv Sea, stretches for nearly seventy miles along the Dnieper River. Several small fishing villages dot its marshy banks and inlets. One of these, Strakholissya, became the homebase of the operation.
It began with a voyage that turned out to be a trial run when nine-months-pregnant Tatyana Bilash made the trip from Strakholissya to safer territory – with the thud of cannonade in the distance and roar of warplanes overhead. The night before neighbors, local fishermen, knocked on her door and told her to be ready the following morning to make the trip – "Tanya, be ready. Get ready! No objections! We will take you tomorrow." They knew that her baby was due soon and that she had a scheduled cesarean planned before the invasion in the Capital. She packed a small bag with a change of clothes and diapers. The next morning in subzero temperatures fishermen bundled Tatyana in blankets, loaded her into an aluminum hulled boat, and sped along at sixty kilometers per hour, sticking to the unoccupied bank. Dodging chunks of ice floating in the water and constantly watching the sky for enemy aircraft, an hour later they finally arrived at their destination. "We passed broken ice and I prayed 'Our Father' for the whole hour. They [the fishermen] joked around and checked on me" explained Tatyana, who soon after the perilous trip gave birth to her son Andrei [Andrew in English] in a Kyiv maternity hospital. When little Andrei grows up Tatyana says his parents will explain – "Son, you were saved by prayer and fellow countrymen. You are named after Andrew, the First-Called, an Apostle and a Galilean fisherman."
Enemy tanks now stood only fifteen kilometers away cutting off access to the mainland and capital city. As Russian troops set up roadblocks, plundered, and committed atrocities the usually sleepy village began to fill with refugees from nearby occupied areas. Several days into the invasion the village was left incommunicado due to Russian jamming of cell phone frequencies. Food began to run out, and fear mounted that the enemy would enter town. Fishermen stepped up and carried messages between unoccupied banks, ferrying refugees to safe areas and returning laden with food and medicine. After several trial trips, the fishermen and other locals set up an evacuation center in Strakholissya, behind enemy lines, and established contact with several other points around the reservoir. During a month and a half, the fishermen became the lifeline for the small lakeside community.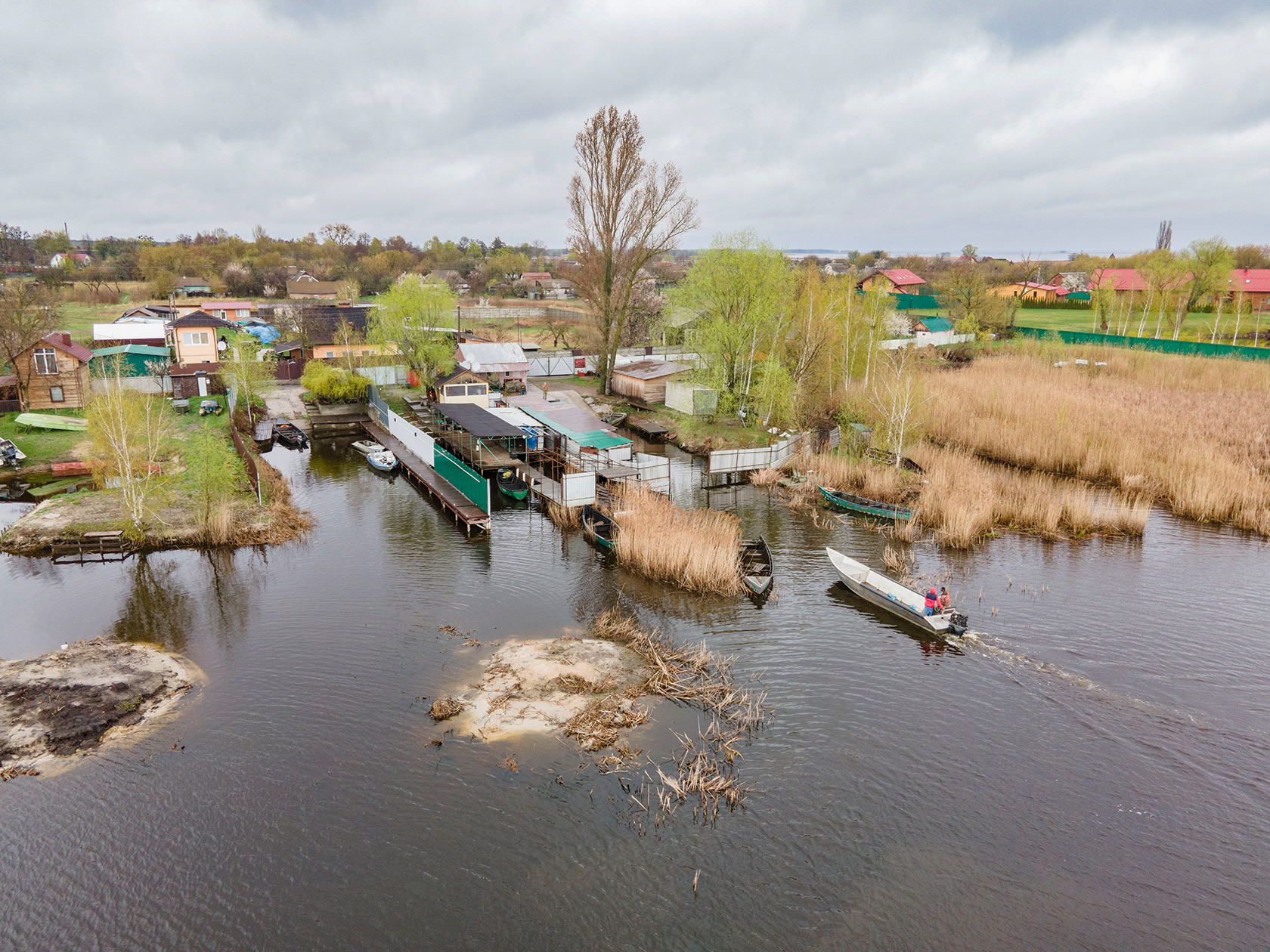 Fifty-two-year-old fisherman Andrey Pupsik described the crossings "Wind gusts can reach twenty-five meters per second. Everything depends on direction. When the west or south wind blows, the waves are very large… For some, such a trip is a huge stress. When they got to the other side, they almost kissed the ground with happiness." Some of the trips passed within sight of enemy patrols on the shore. Fortunately for Pupsik and the other fishermen they did not open fire. Alexander Kulin explained that although thirty people could be accommodated in his eleven-meter boat, he carried a maximum of sixteen people at a time and increased speed to sixty or seventy kilometers per hour to make his vessel a more difficult target. "What didn't we travel under – drones, helicopters, aircraft! For that you just fly, so you can reach the sides more easily." Enemy aircraft were not the only problem, there were days when temperatures reached -10 Celsius (14 degrees Fahrenheit) and waves on high water reached two meters. Standing at the stern of their boats, fishermen were drenched in freezing water and had to change into dry clothes sometimes up to three times a day. On the busiest days they went through up to 250 liters of gasoline (66 gallons).
Since the liberation of northern Ukraine, the fishermen have quietly returned to their nets. As Dick Winters, commander of the famed Easy Company during World War II put it, "War brings out the worst and the best in people. Wars do not make men great, but they do bring out the greatness in good men."